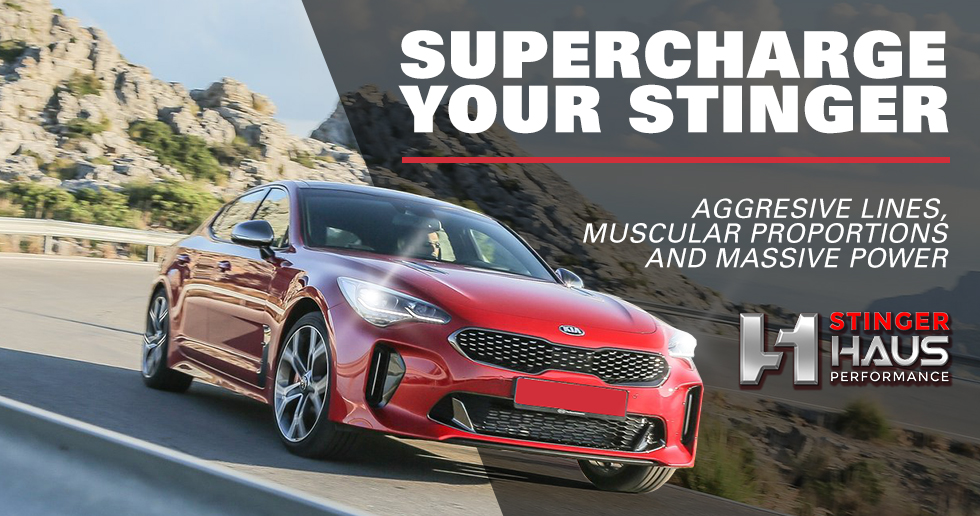 As your official Stinger Haus Performance dealer in the Midwest, Crown Kia Dublin can handle everything from exclusive Stinger Haus performance upgrades to paint and repairs on your new Stinger.
Take a look at our list of available Stinger Haus custom designed components and contact us today for your next performance upgrade.
Imagine eye-catching aerodynamic restyling elements, a hunkered-down performance stance, beautifully responsive suspension hugging the road, grippy tires on race-inspired wheels to instill extra confidence, a deep breathing power plant and the assertive growl of that capable engine.

Crown Kia Dublin offers Stinger Haus' full Air Design Restyling Kit and its separate components to deliver track-inspired performance.
Not too small, not too overbearing, this performance spoiler will give your new Stinger a more aggressive and muscular appearance. It also offers a little downforce on your rear wheel for a grippier ride.

Stinger Haus' exclusive Eibach® performance suspension system delivers dramatically improved handling for your new Stinger from Crown Kia Dublin.
These performance springs will give you an aggressive performance stance you'll love. That's because Stinger Haus' Eibach® progressive rate lowering springs are made exclusively for your Stinger.
They work by pulling your vehicle down around 1.5 inches, lowering your Stinger's center of gravity and virtually eliminating that unsightly fender gap.
This will give you less squat during acceleration and less dive during deceleration for a more precise handling around corners and overall better road feel without the harshness.
Prepare to handle every turn with complete confidence with Stinger Haus' exclusive made-for-Stinger Elbach® performance anti-sway bars.

Crown Kia Dublin offers Stinger Haus' exclusive K&N® performance cold-air intake system, which adds horsepower and improves acceleration.
Made exclusively for your new Stinger, Stinger Haus' cold-air intake system by K&N® is guaranteed to add horsepower! Available only on 3.3L models,
This intake system provides dual inlets and filters for your 3.3L Stinger to deliver more power and an amazing sound. It also has a great look under the hood. Plus, it uses Stinger's factory bracing; so there's no need to drill or do any unnecessary damage to your Stinger.
PLEASE NOTE: Some K&N® air intake systems are not legal for sale or use in California and other states adopting California emissions standards.

Take your Stinger to the next level at Crown Kia Dublin with Stinger Haus' exclusive Borla ® performance exhaust system. Designed to improve power and enhance your Stinger's sound without compromising emissions or legality.
Our exclusive cat-back system is made using Borla® patented cutting-edge Polyphonic Harmonizer technology, 304 stainless steel throughout and real US-made carbon fiber tips.
It's the best money can buy and street legal in all 50 states!
Best of all, it'll give your Stinger an awesome throaty growl you'll love!

Crown Kia Dublin offers Stinger Haus' exclusive wheel and tire package. Race-inspired and street-friendly, this performance upgrade takes your new Stinger to whole new level.
Give your Stinger an additional performance edge with our gorgeous TSW® gloss black Sprint aluminum alloy wheels. Not only do they deliver a more aggressive look on their own, they also open the view on your Stinger's impressive factory Brembo® brakes.
Try our favorite configuration for an exhilarating driving experience: staggered Falken® AZENIS 20x 8.5 (FK510 245/35ZR20) upfront and 20x10 (275/30ZR20) in the rear, or come by and discover your own.
Our TSW® Sprint wheels are also available in a staggered 19-inch configuration if you would rather run the factory tires.

Stinger Haus' appearance extras are designed to help finish off your performance look. Let Crown Kia Dublin install your next upgrade today.
This custom Stinger Sto-N-Sho quick-release removable front license plate bracket will save your beautiful bumper from unnecessary holes. It'll also save you from having to settle for a clunky factory front plate platform just to comply with the law.
Engineered in lightweight anodized aluminum, this simple quick-release bracket allows you to drive in full compliance, but also to remove the front license plate quickly and easily for car washes, show or whenever your next adventure takes you.
Give your decorative factory hood trim a more muscular appearance with this performance hood vent from our appearance line.
With a more raised hood surface, you'll enjoy a more aggressive visual as you take on the road ahead in your new Stinger. Although the performance vents do not actually create a pass-through venting system for the engine, they do look and feel more powerful than your stock version.


Disclaimer: Starting price for 2019 Kia Stinger is $32,900. Excludes tax, tag, title and dealer fees. With approved credit. See dealer for full details.